Kestävä elinkeskus Maharishi International -yliopistossa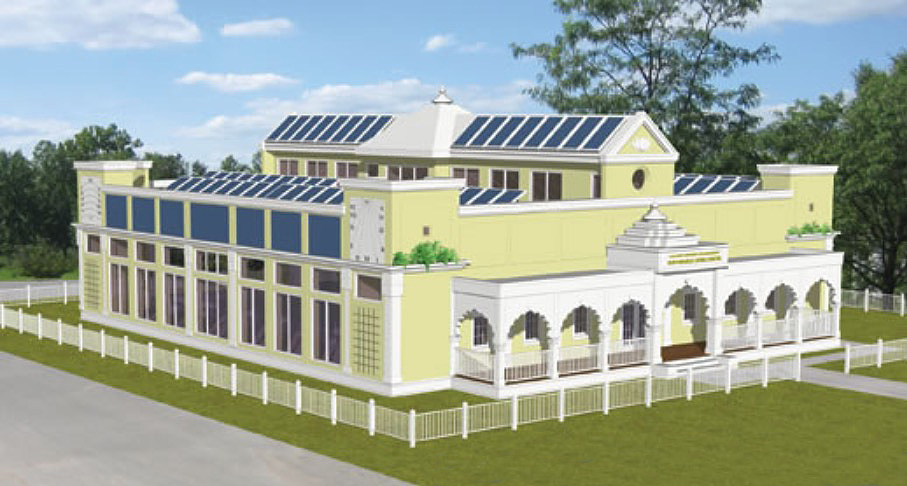 Vieraile kestävässä elinkeskuksessa
The Sustainable Living Center at Maharishi University of Management is a state-of-the art Maharishi Vastu building that brings together the most complete set of green building practices ever implemented in a college building.
This revolutionary green building serves as a teaching tool for the university's four-year Sustainable Living Program, demonstrating hands-on, cutting-edge green technologies.
The 6,000-square-foot structure is off the grid and completely self-sufficient for energy.
Electricity is derived from a wind generator and photovoltaic panels.
Solar water heating panels with a biofuel backup provide heat.
The building is cooled with a combination of extremely good insulation, earth tubes and geothermal pumped cooling.
Thermal-mass walls and substantial insulation also serve to make the building highly energy efficient. Compressed-earth blocks made by the students are the heat-storing inner layer of exterior walls and also comprise the inner walls.
Its unique design makes use of natural daylight so all classrooms can rely on sunlight during the day.
Additional features include a rainwater collection system. Wastewater is treated by a peat-filter septic system draining to a leach field on site.
In addition, the center used non-toxic materials, making it fully Building Biology (BauBiology) compliant.
The Sustainable Living Center achieved LEED Platinum certification, the highest designation given by the U.S. Green Building Council, making it one of the most sustainable buildings in the U.S.
Beyond LEED Platinum, the Sustainable Living Center fulfilled the Living Building Challenge, with compliance in all six areas: site, energy, materials, water, indoor quality, and beautify and inspiration.
The Center was designed and constructed as a Maharishi Vastu building.
The Sustainable Living Center hosts classes and community activities. Visitors may enter during regular business hours and view displays explaining the building's systems. Organized tours are available on request.